I'm writing today to give you an update on two projects focused on Nepal relief and to ask you to consider partnering with us in our relief efforts. Millennium Canada is working with two different program partners to provide relief in Nepal in response to the 7.8 magnitude earthquake.
These two partners are:
Change for Hope
Under the Banyan Tree
Partner Focus: Change For Hope
Change for Hope has been working in Nepal for ten years, during which their focus has been on education. They have provided funds and resources to help schools and children's homes and educational scholarships beyond high school. In response to the earthquake, they are providing crisis relief to communities and villages outside Kathmandu where they have built networks. An area of particular focus will be the region of Dolakha. Food, water and shelter are the three essentials now and in the weeks to come. In the long term, their focus will shift to helping rebuild homes and schools.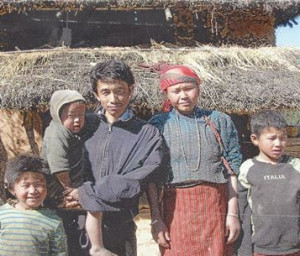 This family is being helped by Change for Hope. They live in Babare in the Dolakha area. They have each other but have lost everything else. Their house, among so many others, was destroyed by the quake. Before the earthquake it took nine hours to get there from Kathmandu – a two hour jeep ride up the mountain and then a hike up to the village. Our program will focus on this area.
Partner Focus: Under the Bunyan Tree
Under the Bunyan Tree is actually based in India in the border town of Rupaidiha. lt is one of the busiest border crossings between Nepal and India. Under the Banyan Tree, is partnering with local efforts to purchase TARPS, ROPE, SALT, OIL, BLANKETS, ETC. to be distributed to afflicted areas in Nepal. All supplies will be purchased locally and bussed into the affected areas in Nepal. The bus will be sent from the border city of Nepalgunj to the Gorkha District of Nepal, one of the quake's hardest hit regions.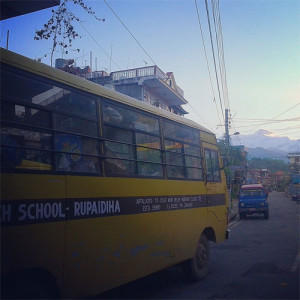 The first bus full of relief supplies arrived in the Gorkha district on May 3rd. Since then our distribution coordinator has been working with other international aid workers as well as the Nepali military to get these needed resources out. There have been a few hiccups, like the bus breaking down, unhelpful regulations for distribution, small riots, etc. but all in all, the work is going forward.
Your Help Would Make a Difference
Would you consider making a donation to our relief efforts in Nepal? You can give to either project or if you prefer, just mark your gift as Nepal Relief and we will make sure it is well spent between these to projects. To donate, click here.
As I considered ways to invite you to respond to these projects I felt I could not put it better than the words below written by Nathan, our program director for Under the Bunyan Tree.
While we rush to provide aid relief for the immediate needs, the minds and hearts of the Nepali people look to their future. The coming months of rebuilding efforts is tantamount to climbing Mount Everest. Typically it has been the Nepali people who have helped countless people traverse their beautiful country and ascend the glorious peaks of their Himalayan mountain range.
The rebuilding efforts they face in the coming months and years may feel liking scaling Mount Everest, and while the Nepali people are some of the hardiest in the world, it is now our turn to be their sherpas, to help carry them through this catastrophe, to walk next to them as they scale the mounting tragedies ahead of them. They know the way forward, but have not had to face these kinds of challenges for many generations. Would you join in? Would you come alongside? Would you be a sherpa to our brothers and sisters in Nepal in their hour of need? The rainy season is coming and there is so much still to do!