I have often said that one of the best parts of my job working with Millennium is the amazing people we get to work with. We recently began running some joint projects in Bangladesh with an organization called the Canadian Leadership Assistance Program.  This blog is about the organization that was founded by long-time friends of mine Carolyn and Don Huston. In this post I ask Carolyn to tell us a bit about what they are doing in Bangladesh.
Q: What is the Canadian Leadership Assistance Program and what led you to start this organization?
Canadian Leadership Assistance Program (CLAP) is a Canadian non-profit society that we founded in May of 2017 after my son and I were invited by local organizations in Bangladesh to witness the living conditions in the Chittagong Hill tracts area of Bangladesh (specifically Bandarban) in January 2017.

Q: What is the purpose of CLAP?
The main initiative of CLAP is to come along side willing participants in programs that will lead to a sustainable future; providing training and education in order to generate funds for their families, villages and the CLAP programs.
Q: What led you to focus specifically on the Chittagong Hill Tracks region in Bangladesh?
The Chittagong Hill tracts located in Southeast Bangladesh near the borders of Northeast India and Myanmar, are made up of three districts and over one thousand villages that are spread throughout these regions. Many of these areas are without any assistance to look towards a better future. CLAP's goal is to come along side villages, local partnering organizations and our leadership team to encourage, train, educate and provide opportunities to hope for a better tomorrow.
Q: What are some of the things you have done so far?
With a team of local young men and women taking leadership in the tribal communities, CLAP has been able to help with the following:
Primary schools:support 8 staff and educate 200 children in 3 villages.
Supplies and equipment: provide items for teaching, training and education: i.e. school supplies, tables and chairs, office furniture, generator, computer, printer, motorcycle….
Sewing program: began in September 2018 by providing funding for 10 sewing machines and training for 20 ladies to start.
Rice Mill: provided funds for a rice mill and shack to harvest rice and sell at the local market.
Q: Your volunteer team here in Canada has done a number of fundraising activities including a very successful silent auction and a garage sale. What are your current fundraising plans?
 While the tribal team continues to grow opportunities and connections in Bangladesh, the Canadian team has been busy with fund raising endeavours and gleaning partners to donate to this valuable cause. Our next fundraising activity is a Christmas capaign.
Q: Can you tell me a bit more about this?
The main initiative this last year have been the Sewing and Rice projects to generate funds for both the program and for the individuals who are working in these projects; these two foundational opportunities will be an on-going source of income.
In order for the workers to effectively sell these products we have a special Christmas campaign to achieve this. Bangladesh is made up of vender style markets year-round. Our team has been given the opportunity of a fifteen-year lease-free lot, however, we will need to build on that lot. The cost will be approximately $5000. We are asking people this to give this Christmas towards with a one-time donation of $20, $50, $100 or gather as families, groups or businesses and sponsor this program with a larger amount of $500 – $1000, to meet this project need.
Q: What does the future hold for CLAP in 2019 and beyond?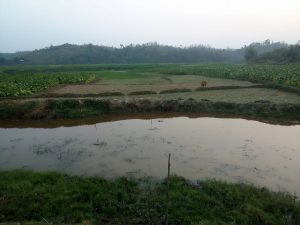 A private donor has made it possible for one of our implementing partner organizations in Bangladesh to purchase five acres of land in the Chittagong area. The purpose of this land is to build a high school and training center. The total cost of the building will be approximately $100,000 and will include classrooms and hostels for high school youth; training for sewing, carpentry, and agriculture; cooking facilities; and accommodations for visiting guests. The first phase will cost $30,000 and we would like the project to break ground in 2019.